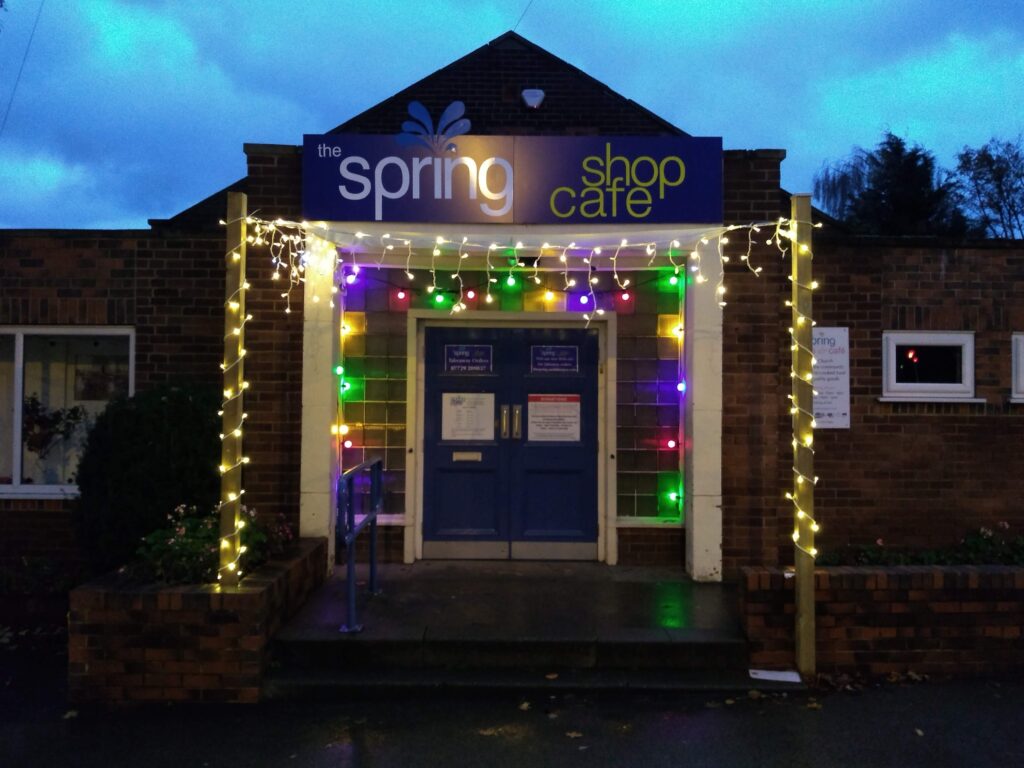 The Spring. Annual Summer Break. Wednesday 23rd August to Tuesday 12th September
TAKEAWAYS CAN BE ORDERED FOR COLLECTION.
Visit our new web-site, the spring.sandalmagna.com
to see menus and make orders.
or 'phone 07729 209837.
Our Usual Opening hours:
Monday – CLOSED
Tuesday- 10am- 4pm
Wednesday- 10am- 4pm
Thursday- 10am- 4pm
Friday- 10am- 4pm
Saturday- 10am to 2pm
Sunday- CLOSED

Takeaways can be ordered and collected from the entrance. 07729 209837.
We exist to serve everyone with loving care and a welcome that reflects the values of our Parish Church. We are a 'not for profit' social enterprise run by the church for everyone who enters our building. The shop offers fantastic second hand goods and clothing for sale at reasonable prices. The café promotes a healthy and nutritious menu, which changes daily and offers a great range of home-cooked food and cakes that can be enjoyed by all ages. We aim to support our local economy and reduce our food miles through using local suppliers.
We usually pray every morning, Tuesday- Saturday, 9.45am until 10.00am, which anyone is welcome to join. We also offer a prayer card tree which enables you to name people on the cards and we will include them in our morning prayers.
Things you might not know that we offer
* Free wireless connectivity
* Rooms for hire
* Catering for private functions
* Community work placements
* Career opportunities for adults with learning difficulties
Please do contact us if you have any questions about the facilities that we offer or the work that we do.
In God's Blessing,
he Spring team
Opening hours
Monday – CLOSED
Tuesday- 10am- 4pm
Wednesday- 10am- 4pm
Thursday- 10am- 4pm
Friday- 10am- 4pm
Saturday- 10am to 2pm
Sunday- CLOSED
There are many volunteer opportunities. If you would like to help, please contact us. The Spring also has a ministry to those with special needs, who make a significant contribution to the social and working life of The Spring.
Do you know you can hire The Spring?
Perhaps you are a local Keep Fit Groups looking for somewhere new, or perhaps a new group wanting to set up. We offer very competitive rates, including the use of utilities and will be able to offer a fully equipped kitchen for self catered social events etc.
Community Use
Yoga
* Monday 5.30-7pm
* Wednesday 7.30-9pm
Contact: Margaret Clegg (Home) 01924 370673 or (Mob) 0778717432
Slimming World
* Tuesday 5-9pm
Contact: Vikki Burkett (Home) 01977 557489 or (Mob) 07966202836
Knit and Knatter
* Thursday 2-4pm
Contact: Viv Buckley Tel: 01924 256966
What do we support
CAP- Christians Against Poverty- They are a national charity, working across the UK to lift people out of poverty and debt. They offer free debt counselling through a network of 218 centres based in local churches. For more information, contact Sarah Cutts on 07503 878728;
Spring Events
Please see or Facebook page.
The Spring, 299 Barnsley Road, Sandal, Wakefield, West Yorkshire, WF2 6EG.
Contact Information
Telephone. 01924 242593
Email. thespring299@btinternet.com